User reviews
The view of Ios! Warm island (25-29 degrees) but there is a cooling breeze...
Ios reviews

Are you familiar with Ios? Tell others your opinion. Write a review.
MYLOPOTAS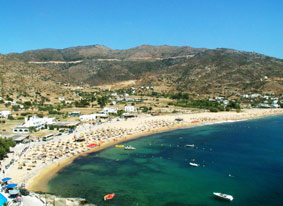 Mylopotas beach is a fine golden sand beach 1 Km long and one of the finest in Greece and island's most crowded especially by young people. more ...
Ios or Nios as it is called by the locals, lies South in the Cyclades islands between Naxos and Paros to the North, Amorgos to the East, Santorini in the South and Sikinos, Folegandros and Milos to the West in a distance of 107 nautical miles away from Piraeus. It has an area of 108 sq. km. and a population of 1,500 people. The island can be reached from Piraeus by ferry all the year round. Ios is also connected, by ferry, with Crete, with the Dodecanese island complex, as well as with many other islands in Cyclades, mainly during the summer period. Finaly there are also sailings to other islands in the Cyclades.

Probably the name Ios comes from the Ionians. The excavations made by the archaeologists, proclaims the presence of a Mycenaean settlement. The most important prehistoric settlement that was found on the island, is located upon a hill to the entrance of the port.

Ios is renowned for its relationship with the great epic poet Homer. Tradition tell us that Homer was buried on the island. There is, in fact, a ruin at Plakoto, which is called Homer's tomb. Chora, the capital of the island stands near the site of the ancient city of Ios.

As is the case with the other Cyclades Islands, the Venetians were here (in the beginning of the 13th century) and have left a fortress behind, in this case built in the 15th century. Before them the island was a part of the vast Byzantine Empire and this influence is distinctive in the island's countless churches. In 1537 was occupied by the Turks. Finally, in 1832 the island entered Greece.

In our times, Ios has become the meeting place for young people from all over the world. This young crowd comes to Ios to enjoy the deep blue of the sea, the shining sun and the frenzied nightlife. But the gates of Ios paradise are open not only to the young, but to everyone. Once you are here, you will make a promise to yourself to come back next year!

Many believe that Ios is the most beautiful island in the Cyclades. The pretty little chapel of St Irene at the entrance to the harbour, the town of Chora, white above the harbour, climbing up a hillside, with a chapel at the top-all this at once creates this impression.

During daytime you can enjoy swimming in fantastic beaches like the famous Mylopotas (one of the finest in Greece and island's most crowded especially by young people), Manganari (a vast golden sandy beach, at the southern extremity of the island), Ayia Theodoti (an excellent secluded beach, about 10 km from Chora) and Psathi (a beautiful deserted beach at the eastern part of the island).

Later comes an exploration of Chora, with its narrow alleys, white houses, windmills and tiny chapels and then a dinner either in the divine harbour of Ios, either in spectacular Chora. And finally comes the world famous nightlife of Ios. The starting and ending point is Chora with its countless bars, pubs, clubs and discotheques. The multicolored and multiethnic crowd participates into this game of fun and all the people are members of an international family.

Ios, has a lot of things to offer, even in the most demanding visitor. The imposing landscapes, the picturesque settlements like Mylopotas, the beautiful beaches like Manganari and Ayia Theodoti, the tomb of Homer and of course the wild nightlife, made Ios a very popular destination. Ios is the place of the ultimate freedom! But any description, however, lags far behind the reality. There is only one answer: come to see! If you are young,


Photos and text taken from "Ios" (Toubis Editions)